Top Beretta Jetfire Holsters
The right place to find your perfect Beretta Jetfire holster is right here. Read what we have to say about these holsters and find yours. Check out the top 6 holsters for Beretta Jetfire in various carry styles with detailed reviews, pros and cons and tips and tricks on how to find your personal favorite. The road to the perfect fit for your Beretta Jetfire is just a few scrolls away. We also included our personal favorite at the end. Don't forget that they are all custom made and the fit is guaranteed.
Beretta Jetfire Holster List
Finding the perfect holster has become much easier. Read more and get yours.
6.

IWB Suede Holster

This is the finest deep concealment made of suede leather. It's designed for IWB carry, which means it's attached from the inside of one's pants. The holster is fully made of suede leather, which makes it lighter and a bit more comfortable to carry than most leather holsters. At first, I was a bit hesitant to give it a chance, but as soon as I found out how flexible the holster was, I immediately had to get one for my Beretta Jetfire. The holster can be carried in two different positions. Usually I carry the holster on my strong side, fastened in the 3 o'clock belt position. However, it can also be used as an appendix holster. When I want to carry my Beretta Jetfire this way, I attach the holster to the 1 o'clock belt position.

What I like about this holster best is the polymer clip it features. This allows me to mount the holster very easily, without having to take the belt off. Another great benefit of the holster is its fit. As it's built on the exact replica of the Beretta Jetfire, the holster delivers a perfect, glove-like fit. On top of that, it's fully handmade, which grants it a unique feel. Moreover, all the key parts of the holster are double-stitched, which secures its high durability.

One downside of the holster is that it doesn't have any thumb break strap, so the only retention you get is delivered by the fit (which is great, though). On the other hand, the open-top design results in a quick draw time. By default, the clip is compatible with 1.5'' wide belts, but you can ask for its modification to fit wider belts as well. The clip doesn't offer as much stability as belt slots do, but I haven't noticed any movement of the holster on my belt, at least not so far. This IWB holster is available in natural suede leather color and it can be made for both right and left-handed shooters.

$39

Check details
Pros
Cons
Pros
Easy and convenient attachment
Made of finest Italian suede leather
Ideal for deep concealed carry
Cons
Absence of additional retention devices
Holster can be flimsy if not properly adjusted
Only comes in natural leather color
5.

Thigh Bag For Concealed Carry

This off-body concealed carry bag is an ideal alternative for any OWB holster for your Beretta Jetfire. Moreover, the level of concealment it offers is much greater than most usual holsters carried outside the waistband do. I find the bag very comfortable to wear. I can easily attach it to my waist and thigh via the adjustable straps. These two attachment points result in a very high stability.

Construction-wise, the entire concealment bag is made of extra durable polyester fabric (cordura) and the key parts are sewn together by high-quality threads. The bag is also entirely hand made, which grants it a unique, custom feel. When it comes to its design, the bag is suitable for both urban and natural environments.

This bag includes 3 completely zippered pockets, also featurining pull-on straps, which results in quick and easy access. The bag is designed for guns up to 9.25'' x 5.7'' size and your handgun will be stored in a separate section, which increases its security. Moreover, the gun compartment features extra protective lining. Even though the bag looks quite compact, it still offers ample room for your Beretta Jetfire as well as your entire EDC set. Mine comes in olive color, but you can also choose from black and coyote. The bag's also fully ambidextrous.

$79

Check details
Pros
Cons
Pros
Extra lined interior for higher gun protection
Ample room for your entire EDC
Made of high quality cordura material
Cons
Drawing takes a bit to get used to
Easily noticeable
Straps need to be properly adjusted
4.

Everyday Concealed Carry Bag

As shoulder holster systems are not always the best option (mainly in warmer months), it's always great to have an off-body alternative at the ready. And there's no better than this concealed carry bag, at least not for your Beretta Jetfire. I've been using it for some months now and it hasn't let me down so far. It's an excellent choice for everyday deep concealed carry. The bag is made of functional layered nylon that's surprisingly durable. As far as attachment goes, it's quick and simple as all you need to do is to hang it over your shoulder via the adjustable shoulder strap.

The bag is almost entirely handmade, which grants it a unique, custom feel. It also features multiple compartments with many zippered pockets, which means you will be able to store in all of your everyday carry items, not just your Beretta Jetfire. The bag features a magnetic frontal flap with a small zippered pocket. The main compartment is very spacious, allowing you to carry any handgun of up to 9.2'' x 7.6'' size, including a tactical light. Just in case you decide to switch to another pistol or revolver.

My Everyday Concealed Carry Bag comes in black, but you can select from a couple of other colors such as olive, coyote, and natur grey. The bag comes in an ambidextrous design, which means it's suitable for both right and left-handed shooters. It's a great match for urban environments and it compliments any smart outfit, but I wouldn't hesitate to take it with me out to the woods as well.

$129

Check details
Pros
Cons
Pros
Neat and smart look
Boasts enough room for entire EDC
Ideal alternative to shoulder holsters
Cons
Quick draw requires some practice
Not ideal for people who experience shoulder pain
Price tag
Premium 5-Year Warranty
Always buy a holster with a 5-year warranty. The prolonged time should cover the whole wear and tear period in which you can find out what quality means. It is always good to have your back and your firearm covered.
3.

Urban Concealed Carry Fanny Pack

This concealed carry fanny pack is a great alternative for traditional cross-draw holsters for your Beretta Jetfire. At least I was pleasantly surprised when I received mine and I always strap it on when I have to set out on a journey to states that aren't that friendly when it comes to open carry. Unlike a traditional cross draw holster, this pack lets you carry more than just your gun. The multiple zippered compartments it's made of offer enough room for an entire EDC set (there's plenty of room for your documents, car keys, knife, and more).

The fanny pack is made of functional layered nylon and it's very comfortable to wear. Inside the main compartment, there's an elastic holder for your Beretta Jetfire, which secures a quick and convenient draw and it won't make your gun feel loose when holstered. The downside is the fact that the pack is only compatible with guns up to 4.5 inch barrel length, but most of the everyday carry guns aren't that big anyway.

Just like its name suggests, the Urban Concealed Carry Fanny Pack is mainly suitable for urban environments. However, if you decide to take it out to the woods, you'll be able to carry a big gun at the same time. The pack features ambidextrous design, so it's ideal for both right and left-handed shooters. Unfortunately, it's only available in natur grey color, but that's not a big deal for me. If you decide to use it as a cross draw off-body holster, you definitely won't regret it.

$69

Check details
Pros
Cons
Pros
Made of high quality, durable nylon
Great alternative to cross draw gun holsters
Contains multiple zippered compartments for your entire EDC
Cons
Only comes in natur grey color
Not that ideal for bigger guns
Compared to belt holsters, draw time is a bit slower
2.

Tactical Bag For Concealed Carry

Traditional SoB holsters (small of the back) can be quite problematic, as you usually end up muzzling those behind you upon drawing. That's why I decided to try out an off-body alternative to the traditional middle of the back carry. And I don't regret the decision at all as this bag is more than ideal for everyday concealed carry. It's mainly designed for shoulder carry, and you can choose if you want your Beretta Jetfire gun to rest on your lower back or hip. Moreover, the shoulder strap it features comes with is detachable and the bag can be utilized for outside the waistband carry as well.

This entire bag is made of functional layered nylon and it features strong and durable stitching. The bag is fully hand made, which grants it a unique, custom feel. Just like the name suggests, the bag boasts high utility. This is a result of multiple separate compartments it consists of. The frontal section closes with a magnetic flap and trident backle, the middle one is operated via a drawstring and the rear one utilizes a zipper. Every single compartment also includes internal pockets with easy access, so that you can store and have your entire EDC always at the ready. The back section of this bag is reinforced, allowing for safe and comfortable carry, draw, and re-holstering.

This bag will also take in guns with lasers or lights attached, which makes it even more tactical.  This great alternative to SoB holsters is suitable for ambidextrous use and it's available in a number of different colors - black, natur grey, olive, and coyote. The bag's dimensions are  8.6'' x 6.7'' x 3.3''.

$119

Check details
Pros
Cons
Pros
High utility tactical bag
Ideal for everyday deep concealed carry
Great alternative to SoB and strong side holsters
Cons
Drawing takes a bit to get used to
A bit more expensive than traditional belt holsters
Not ideal for people after a shoulder surgery
1.

Concealed Carry Belt Pouch

Due to stricter CCW laws in some states, it's not always possible to carry any gun holster without others noticing. That's when concealment pouches come in play, as they're an ideal replacement. And so is this one. It's an ideal pouch for everyday carry, but you can also make great use of it if you ever engage in sports activities. It's very comfy and you can even get one for some of the biggest handguns out there. You can also select from 3 different colors - black, olive, and coyote.

Gun pouches are usually quite small. This one is also very compact, but a huge benefit of it is that it also takes in pistols and revolvers equipped with lights and lasers. You can stuff in guns of up to 10'' barrel length and there'll still be room for some of your EDC items left.

This pouch is also very practical due to its ambidextrous built and a quick zip opening. This way,  you'll be able to draw your Beretta Jetfire fast, no matter what your hand preference is. This concealment pouch is made of breathable nylon and it's also quite easily attachable to pretty much any belt. It's pricing is also more than reasonable, so unless you don't need anything too fancy, you won't be disappointed by this pouch.

$29

Check details
Pros
Cons
Pros
Ideal for concealed carry pretty much anywhere
Reasonable pricing
Accommodated even the biggest guns
Cons
It doesn't look as stylish as leather would
You need a belt for the attachment
Be careful when selecting the correct size
1.5" Basket Weave Gun Belt
A sturdy gun belt that will hold your holster in a firm position with no sagging.
Check details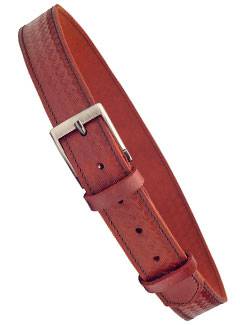 Double Magazine Pouch
The double mag pouch is made of premium leather with an open top design, suitable for outside the waistband carry.
Check details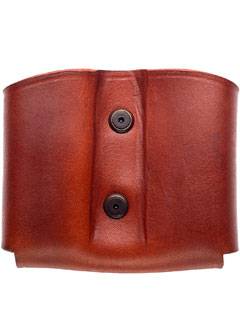 Small Break-In Kit
If you are looking for a easy and simple break-in kit for your leather holster this break-in kit is for you.
Check details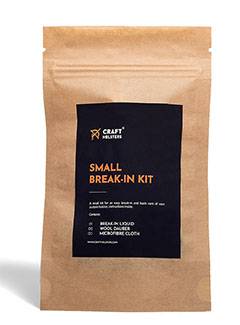 Previous
Next

Premium Quality Leather

Durable Stitching & Construction

Fits Like A Glove

Custom Made For Beretta

Old World Craftsmanship

Premium 5-Year Warranty
A perfect Beretta holster material is sometimes also a hard choice. Read more about what each material has to offer and then jump to custom made holsters made directly out of the individual materials.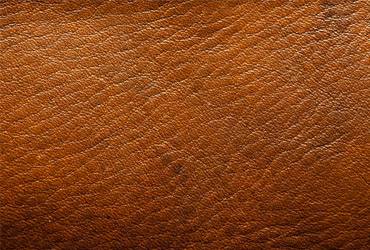 Leather
Leather holsters have been present since the very beginning. The offer great retention and leather itself has well-known and reliable features. Plus - nothing beats a leather holster when it comes to comfort and being skin-friendly. A classic is a classic.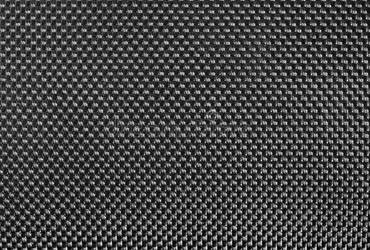 Nylon
Nylon has found its way to the gun owner mainly because of its low price and easy maintenance. The light weight build also helps many shooters decide to carry a nylon holster. If you choose a nylon holster you get something that has almost no weight and holds your handgun firmly.
How to Choose The Best Holster For Your Beretta Jetfire
If you are having trouble deciding between holsters because you don't know which questions to ask yourself read our tips below on how to properly choose a holster for your Beretta Jetfire. Let us bring some clarity into your decision making.
Be sure to always go for a perfect fit holster (no one fits all holsters, never)
Be sure to be able to draw with one hand - you never know how the situation will end up.
Can you draw while seated and belted in your car?
If you plan on going concealed don't waste your time with thumb breaks of push-releases
You get what you pay for - the cheap option is not always the best option.
The size of your handgun should tell you the type of holster. Let's be hones, concealing a 5" barrel is not the easiest.
6 Best Carry Styles For Your Beretta Jetfire
Find out which holster carry style will work best for your style of carry and your Beretta Jetfire. Carry styles below will provide you with basic info and you can browse holsters by clicking on the buttons.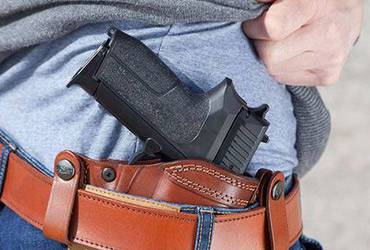 IWB
Inside the waistband carry. The perfect concealed carry option. Conceals the firearm and keeps it on your body. An IWB holster can be placed all around your body, so there's added versatility.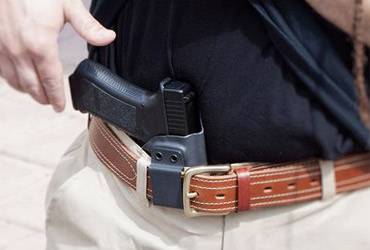 Appendix
Appendix holsters carry. The most concealable way to carry your firearm. Appendix holsters are also called AIWB holsters and they position your firearm in your 1 o'clock i.e. appendix position.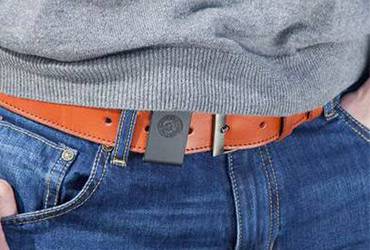 Concealed Carry
Concealed carry holsters are designed conceal your handgun to the point of almost no visibility. Features such as J hooks, belt clips or tuckable variations allow the firearm to be depply concealed.
The winner
Urban Concealed Carry Pouch
There probably isn't a better off-body concealed carry option for your Beretta Jetfire than this pouch. It's ideal for everyday deep concealed carry, and not only for your gun, but also for the rest of your EDC essentials. The pouch looks very neat and it perfectly compliments anyone who often dresses smart. As the pouch's name suggests, it's suitable mainly for urban environments, but I wouldn't hesitate to take it with me to less cultivated areas as well. The pouch features a number of compartments, the most important being the rear one as it's designed specifically for gun carry. This compartment is lined and reinforced, which results in higher security of your Beretta Jetfire. As the pouch is fully ambidextrous, it's perfect for both right and left-handed shooters. With a bit of practice, the Urban Concealed Carry Pouch will become a great alternative to any traditional gun holster.
$79
About Beretta Jetfire model
If you're asking yourself: "Where have I seen this gun?", then I have an answer for you. The Beretta Jetfire (sometimes called Beretta 950) is the famous gun from "The Man With the Golden Gun", briefly carried by the Agent 007 himself. This model was introduced by Beretta Firearms, one of the most popular gun manufacturers ever, way back in 1952, but it's still a popular everyday carry option among many. The Jetfire is a semi-automatic pistol that builds on a long line of small and compact pocket pistols. It's extreme compactness - only 0.91'' wide and 4.7'' long - makes it an ideal back-up gun solution and a great gun to carry even in one's pockets.The Beretta Jetfire chambers the .25ACP caliber and can stack up to 8 rounds of ammo, which is more than enough for a secondary self-defense pistol. Just like you could see in the Bond movie, it's small size makes it an ideal option for undercover agents, police officers, or anyone licensed to carry a concealed weapon for the purpose of self-defense. The Jetfire functions as a simple blowback single-action pistol with a tip-up barrel. Despite being very small in size, it's very durable thanks to the frame made out of aluminum alloy and the slide and barrel consisting of carbon steel.
Useful Beretta Jetfire Links & Resources
If you still want to know more and even more about Beretta Jetfire you definitely should follow the links to the websites below.